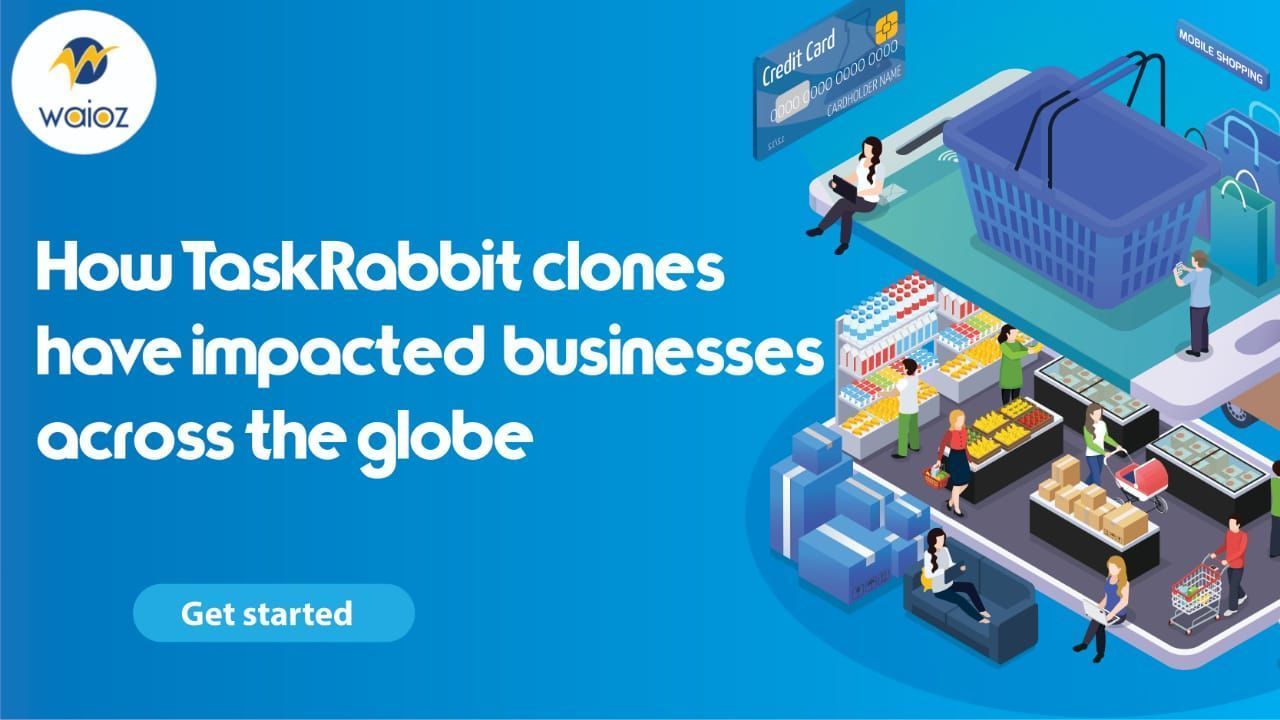 At around 2014, TaskRabbit hit the market hard and the demand for such applications across various other domains were on the rise. The use of the word Uber for X or TaskRabbit Clone Script became a very popular word across the online startup community.
What is a Taskrabbit Clone
Taskrabbit clone is an online marketplace script that incorporates some ideas and features that made TaskRabbit successful.
Usually these apps house 2 different portals, one for the user and one for the service provider. They can be within the same app as in TaskRabbit or different apps like in uber.
The marketplace allows users to quickly order and use services like grocery, food, gardening, dog walking, etc, via a mobile app.
When a service request is submitted by the user, service providers in the vicinity get a notification on their app and accept to take up the service request.
The reason for such an online clone model to get the traction it did is because the model is simple to use, effective, and is very scalable. Also the concept of such on-demand service applications has disrupted the offline industry and has already created a huge ripple effect over the need to house an online business model. With safety and assurance over the service gotten, people started preferring such online models over offline businesses.
Industries which have made use of TaskRabbit clone modules
1. Food and grocery delivery
An essential commodity in everyday human life, food, and grocery delivery module has had a huge surge. There are umpteen online apps that cater to food delivery and grocery delivery across the globe.
Online Grocery delivery: The fact that we almost always forget the grocery run is the problem such on-demand grocery delivery apps. Every chain store right from Tesco, Costco, Asda, etc have their own e-commerce app. Apart from that you have certain standalone apps like Shipt, InstaCart, Peapod that have made inroads into the grocery business.
Food Delivery: Food delivery as such as had made it so much more convenient on days when you just want to stay home and do absolutely nothing. Takeaway industry in itself took a huge revolution when such apps came to prominence ever since 2016. Apps like uber eats, GrubHub, swiggy are testament to the industry.
2. Transportation and logistics
With taxi booking application already heavily influenced in the market. Uber, Lyft, Ola conquering hire taxi domains in most countries of the world. With this success, logistics and packers and mover also ventured into deploying such apps to develop their business.
Uber for Logistics: Logistics is one of the most in-demand domains in the world. The industry is filled with over 5.5 million businesses across the globe. Applications like Cargomatic, Lalamove trucky are all testament to how the industry is evolving.
Package delivery: Delivery of packages and couriers across cities have also taken up after the success of uber. Deploying real-time tracking of delivery and OTP verification has made the system very convenient and successful. Apps like dunzo, shyp etc are proof of how effective courier management is done via apps.
3. Housework
TaskRabbit created its demand on how well finding people to do odd jobs like cleaning, gardening, etc. Many applications have conceptualized TaskRabbit's idea and have ventured into their own domains.
Housekeeping: With the massive success of TaskRabbit, applications that help handymen and odd job services have taken over the globe. Bizzby, Handy, urban clap are examples of how deep these applications have penetrated the market. Be it gardening, window cleaning or maid services, TaskRabbit clones are your go-to option.
Care workers: Finding care workers for both nanny services and aged care have been made easy with such applications. You can see many applications that cater to babysitting across the globe these days.
Pet Care: Pet care industry has been on the rise and the need for dog-walking and pet care is now at a zenith. With GPS location of your dog and monthly plans applications like wag, Borrowmydoggy has taken the industry by the scruff forcing many others to look into such options.
Conclusion
Taskrabbit clone scripts or uber for X models are fast taking over industries that require a service provider and a consumer. It's only a matter of time till your industry also deploys such applications to create a market revolution.
Beat your competitors to it by thinking about going digital with TaskRabbit clone scripts. To have a detailed consultation of how you can revolutionize your industry and stay ahead of your competitors, contact WAIOZ. WAIOZ has designed, crafted and developed a script with a huge amount of research done to assist you in standing out in your field.